Teller.
"The more you know about how much goes into a work of art, the more you love it."
Teller of Penn & Teller fame has now directed a movie. The subject of the movie is about Tim Jenison's invention which aims to aid the inventor in being able to paint as the Dutch Master Vermeer of Girl with the Pearl earring fame...
Teller says the movie came about when Penn, feeling trapped in his own success, wanting to find a something non-showbiz that interested him through his friend Tim Jenison. The latter brought forth a video of a project he was working on. Hence Penn reqruited his co collaborator Teller and the search for non showbiz became a movie.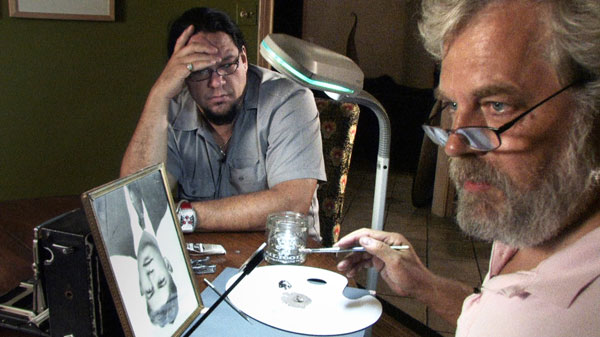 Penn Jillette and Tim Jenison.
Once we could hang all our complex ideas, and there are a lot of complex ideas in the movie, on
Tim's longing to paint a Vermeer, I was confident that we had a movie.
This he only discovered of in the editing process when placing two bits of interview, one to open and one almost closing it. That is the beauty of a creative process.
Below is a snippet from the movie about some of the techniques Vermeer might have used.
Another snippet - This one features Phillip Steadman professor at UCL. Steadman published a book in 2001 called Vermeer's Camera. This book was then given to Tim Jenison by his daughter. In many ways this could be seen as the seed of the whole project.